---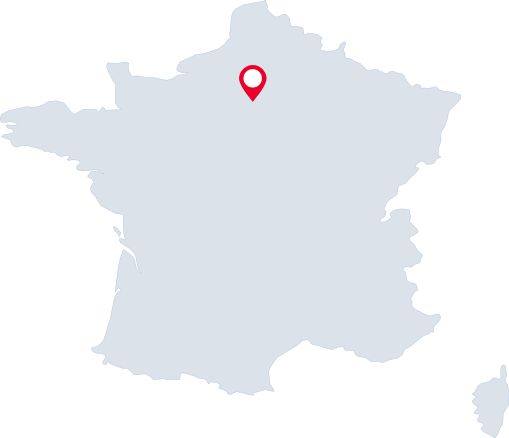 Paris
Paris - Charles de Gaulle Airport
---
Paris – Charles de Gaulle airport is located 25 km north-east of Paris. Its name comes from the city of Roissy-en-France, more than half of which is taken up by the airport, and from General Charles de Gaulle, who was President of the French Republic.
TRAFFIC: This is the second European airport in terms of traffic, with approximately 61 million passengers, of which more than a third are in transit to another destination.
VECTORS: More than 100 airlines operate at this airport, including Air France, Alitalia, Lufthansa, Qatar Airways, Singapore Airlines, Swissair, United Airlines, Air Canada, British Airways, Aeroflot, KLM, Emirates, Air Europa and Finnair.
DESTINATIONS: The main destinations include London, Rome, New York, Tokyo, Brussels, Amsterdam, Frankfurt, Milan, Munich, Prague, Barcelona and Warsaw.
DEVELOPMENTS: To facilitate layovers, a new boarding area opened in March 2012 between boarding areas 2A and 2C. The new boarding area makes it possible to have all security controls and passports checks in a single space. A new Terminal 4 should be built around 2025. The new Terminal will accommodate 30-40 million passengers a year and will probably be built north of Terminal 2E.
OUR SERVICES:
Basic wrapping – Lost Luggage Concierge – Travel goods
Premium package – Platinum package
Opening Hours
Paris - Charles de Gaulle Airport
| | | | |
| --- | --- | --- | --- |
| Monday | 05:00 AM | - | 09:00 PM |
| Tuesday | 05:00 AM | - | 09:00 PM |
| Wednesday | 05:00 AM | - | 09:00 PM |
| Thursday | 05:00 AM | - | 09:00 PM |
| Friday | 05:00 AM | - | 09:00 PM |
| Saturday | 05:00 AM | - | 09:00 PM |
| Sunday | 05:00 AM | - | 09:00 PM |
| | | | |
| --- | --- | --- | --- |
| Monday | 06:00 AM | - | 09:00 PM |
| Tuesday | 06:00 AM | - | 09:00 PM |
| Wednesday | 06:00 AM | - | 09:00 PM |
| Thursday | 06:00 AM | - | 09:00 PM |
| Friday | 06:00 AM | - | 09:00 PM |
| Saturday | 06:00 AM | - | 09:00 PM |
| Sunday | 06:00 AM | - | 09:00 PM |
| | | | |
| --- | --- | --- | --- |
| Monday | 07:30 AM | - | 09:30 PM |
| Tuesday | 07:30 AM | - | 09:30 PM |
| Wednesday | 07:30 AM | - | 09:30 PM |
| Thursday | 07:30 AM | - | 09:30 PM |
| Friday | 07:30 AM | - | 09:30 PM |
| Saturday | 07:30 AM | - | 09:30 PM |
| Sunday | 07:30 AM | - | 09:30 PM |
| | | | |
| --- | --- | --- | --- |
| Monday | 07:30 AM/12:30 PM | - | 03:30/09:30 PM |
| Tuesday | 07:30 AM/12:30 PM | - | 03:30/09:30 PM |
| Wednesday | 07:30 AM/12:30 PM | - | 03:30/09:30 PM |
| Thursday | 07:30 AM/12:30 PM | - | 03:30/09:30 PM |
| Friday | 07:30 AM/12:30 PM | - | 03:30/09:30 PM |
| Saturday | 07:30 AM/12:30 PM | - | 03:30/09:30 PM |
| Sunday | 07:30 AM/12:30 PM | - | 03:30/09:30 PM |
| | | | |
| --- | --- | --- | --- |
| Monday | 06:00 AM | - | 08:00 PM |
| Tuesday | 06:00 AM | - | 08:00 PM |
| Wednesday | 06:00 AM | - | 08:00 PM |
| Thursday | 06:00 AM | - | 08:00 PM |
| Friday | 06:00 AM | - | 08:00 PM |
| Saturday | 06:00 AM | - | 08:00 PM |
| Sunday | 06:00 AM | - | 08:00 PM |
| | | | |
| --- | --- | --- | --- |
| Monday | 06:00 AM | - | 08:00 PM |
| Tuesday | 06:00 AM | - | 08:00 PM |
| Wednesday | 06:00 AM | - | 08:00 PM |
| Thursday | 06:00 AM | - | 08:00 PM |
| Friday | 06:00 AM | - | 08:00 PM |
| Saturday | 06:00 AM | - | 08:00 PM |
| Sunday | 06:00 AM | - | 08:00 PM |
| | | | |
| --- | --- | --- | --- |
| Monday | 07:00 AM | - | 09:00 PM |
| Tuesday | 07:00 AM | - | 09:00 PM |
| Wednesday | 07:00 AM | - | 09:00 PM |
| Thursday | 07:00 AM | - | 09:00 PM |
| Friday | 07:00 AM | - | 09:00 PM |
| Saturday | 07:00 AM | - | 09:00 PM |
| Sunday | 07:00 AM | - | 09:00 PM |
| | | | |
| --- | --- | --- | --- |
| Monday | 05:30 AM | - | 10:30 PM |
| Tuesday | 05:30 AM | - | 10:30 PM |
| Wednesday | 05:30 AM | - | 10:30 PM |
| Thursday | 05:30 AM | - | 10:30 PM |
| Friday | 05:30 AM | - | 10:30 PM |
| Saturday | 05:30 AM | - | 10:30 PM |
| Sunday | 05:30 AM | - | 10:30 PM |
| | | | |
| --- | --- | --- | --- |
| Monday | 06:00 AM | - | 10:30 PM |
| Tuesday | 06:00 AM | - | 10:30 PM |
| Wednesday | 06:00 AM | - | 10:30 PM |
| Thursday | 06:00 AM | - | 10:30 PM |
| Friday | 06:00 AM | - | 10:30 PM |
| Saturday | 06:00 AM | - | 10:30 PM |
| Sunday | 06:00 AM | - | 10:30 PM |
| | | | |
| --- | --- | --- | --- |
| Monday | 07:00 AM | - | 03:00 PM |
| Tuesday | 07:00 AM | - | 03:00 PM |
| Wednesday | 07:00 AM | - | 03:00 PM |
| Thursday | 07:00 AM | - | 03:00 PM |
| Friday | 07:00 AM | - | 03:00 PM |
| Saturday | 07:00 AM | - | 03:00 PM |
| Sunday | 07:00 AM | - | 03:00 PM |
| | | | |
| --- | --- | --- | --- |
| Monday | 05:30 AM | - | 09:30 PM |
| Tuesday | 05:30 AM | - | 09:30 PM |
| Wednesday | 05:30 AM | - | 09:30 PM |
| Thursday | 05:30 AM | - | 09:30 PM |
| Friday | 05:30 AM | - | 09:30 PM |
| Saturday | 05:30 AM | - | 09:30 PM |
| Sunday | 05:30 AM | - | 09:30 PM |
| | | | |
| --- | --- | --- | --- |
| Monday | 06:00 AM | - | 08:00 PM |
| Tuesday | 06:00 AM | - | 08:00 PM |
| Wednesday | 06:00 AM | - | 08:00 PM |
| Thursday | 06:00 AM | - | 08:00 PM |
| Friday | 06:00 AM | - | 08:00 PM |
| Saturday | 06:00 AM | - | 08:00 PM |
| Sunday | 06:00 AM | - | 08:00 PM |