---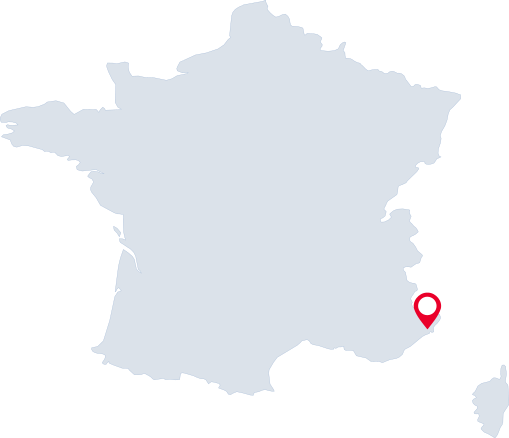 Nice
Nice - Côte d'Azur Airport
---
The Nice – Côte d'Azur airport is located approximately 6 km south-west of Nice in the Alpes Maritimes.
TRAFFIC: This is the third French airport. It served 13.3 million passengers in 2017.
VECTORS: Approximately 60 airlines operate at Nice airport, including Air France, Alitalia, British Airways, Brussels Airlines, Delta Airlines, Easyjet, Emirates, Iberia, KLM, Lufthansa, Meridiana, Qatar Airways, Ryan Air, Transavia and Vueling.
DESTINATIONS: The busiest routes include Madrid, Ibiza, Dubai, Düsseldorf, Stuttgart, Amsterdam, Warsaw, Rome, Dublin, Milan, Barcelona and Prague.
DEVELOPMENTS: The renovation of Terminal 1 was completed in 2016, increasing the terminal's capacity from 5 to 5.5 million passengers. Expansion works are planned for Terminal 2, which should be completed by 2022.
OUR SERVICES:
Basic Wrapping – Lost Luggage Concierge – Weigh and Save
Travel goods – Bike Box –Luggage Storage
Premium package – Platinum package
ONLINE BOOKING:
https://reservation.nice.aeroport.fr/safebag/14?LG=EN
Opening Hours
Nice - Côte d'Azur Airport
| | | | |
| --- | --- | --- | --- |
| Monday | 05:30 AM | - | 07:30 PM |
| Tuesday | 05:30 AM | - | 07:30 PM |
| Wednesday | 05:30 AM | - | 07:30 PM |
| Thursday | 05:30 AM | - | 07:30 PM |
| Friday | 05:30 AM | - | 07:30 PM |
| Saturday | 05:30 AM | - | 07:30 PM |
| Sunday | 05:30 AM | - | 07:30 PM |
| | | | |
| --- | --- | --- | --- |
| Monday | 05:30 AM | - | 07:30 PM |
| Tuesday | 05:30 AM | - | 07:30 PM |
| Wednesday | 05:30 AM | - | 07:30 PM |
| Thursday | 05:30 AM | - | 07:30 PM |
| Friday | 05:30 AM | - | 07:30 PM |
| Saturday | 05:30 AM | - | 07:30 PM |
| Sunday | 05:30 AM | - | 07:30 PM |
| | | | |
| --- | --- | --- | --- |
| Monday | 08:00 AM | - | 08:00 PM |
| Tuesday | 08:00 AM | - | 08:00 PM |
| Wednesday | 08:00 AM | - | 08:00 PM |
| Thursday | 08:00 AM | - | 08:00 PM |
| Friday | 08:00 AM | - | 08:00 PM |
| Saturday | 08:00 AM | - | 08:00 PM |
| Sunday | 08:00 AM | - | 08:00 PM |
| | | | |
| --- | --- | --- | --- |
| Monday | 08:00 AM | - | 08:00 PM |
| Tuesday | 08:00 AM | - | 08:00 PM |
| Wednesday | 08:00 AM | - | 08:00 PM |
| Thursday | 08:00 AM | - | 08:00 PM |
| Friday | 08:00 AM | - | 08:00 PM |
| Saturday | 08:00 AM | - | 08:00 PM |
| Sunday | 08:00 AM | - | 08:00 PM |