---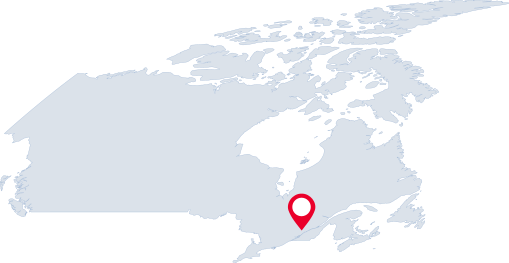 Montréal
Montréal Airport
---
 Montréal airport is located on the island of Montréal, 20 km from the city centre.
TRAFFIC: Having served 18 million passengers in 2017, Montréal airport is the third busiest in Canada. It is one of the main entry points to Canada; in fact, the air route between Montreal and Paris is the busiest international route from Canada.
VECTORS: Approximately 40 airlines operate at the Montréal airport, including Air Canada, Air France, American Airlines, British Airways, KLM, Lufthansa, Qatar Airways, Turkish Airlines and Swiss.
DESTINATIONS: The main routes include Paris, London, Geneva, Frankfurt, Miami, Atlanta, Amsterdam, Zurich, Istanbul, Boston and Orlando.
DEVELOPMENTS: An airport expansion project began in 2011 with an investment of 620 million dollars. The airport has planned several future projects, including a reconfiguration of the international arrivals hall and the luggage storage area. A commercial area called Haltes Gourmandes was inaugurated in 2016 (the name refers to the large number of restaurants present in the area).
OUR SERVICES:
Basic Wrapping – Lost Luggage Concierge – Travel goods
Bike Box – Premium package – Platinum package
Opening Hours
Montréal Airport
| | | | |
| --- | --- | --- | --- |
| Monday | 01:00 PM | - | 7:00 PM |
| Tuesday | 01:00 PM | - | 7:00 PM |
| Wednesday | 01:00 PM | - | 7:00 PM |
| Thursday | 01:00 PM | - | 7:00 PM |
| Friday | 01:00 PM | - | 7:00 PM |
| Saturday | 01:00 PM | - | 7:00 PM |
| Sunday | 01:00 PM | - | 7:00 PM |
| | | | |
| --- | --- | --- | --- |
| Mondayday | Closed | - | Closed |
| Tuesday | Closed | - | Closed |
| Wednesday | Closed | - | Closed |
| Thursday | Closed | - | Closed |
| Friday | Closed | - | Closed |
| Saturday | Closed | - | Closed |
| Sunday | Closed | - | Closed |